Zombie Apocalypse - 2023 Outbreak - 473mL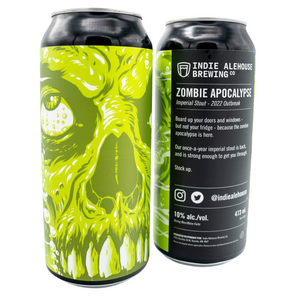 When there's no room left in our tanks, the dead shall walk the earth!

The 2023 "outbreak" of our Imperial Stout is strong, rich, and roasty - a perfect treat for these cold winter nights, or to stash away in your long-term supplies (to ride out the apocalypse, or course).
Board up the windows, and don't get bitten - the Zombie Apocalypse is here! 
Now in tall cans!
ABV: 10%

Size: 473mL can

Notes: strong, rich, and roasted malts
 Try at Stout Night 2023! www.stoutnight.com